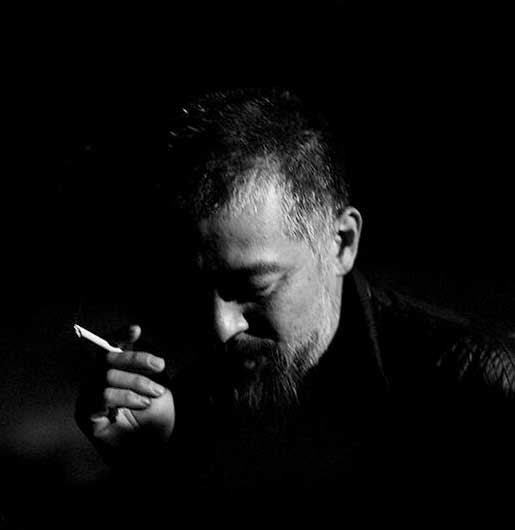 陶芸家、造形家
1970年北海道札幌市生まれ、苫小牧高専の機械工学科を卒業後、金属製モニュメントやオブジェの製作会社で設計の仕事に就く。
退社後の2003年に北広島市の森の中に工房と薪窯(穴窯)を自作、北海道内の鉄分の多い粘土を手掘りし、薪で6日間かけて焚き上げる「南蛮」と呼ばれる焼き物を作り、個展を中心に発表。
2007年からは陶以外にも木や竹等の自然素材を用いた作品を作り始め、近年は竹ひごを使って展示空間に合わせてその場で制作する作品も手がける。
野外彫刻展では、展示場所に直接粘土で形を作り、それに合わせて窯を作る大型の陶芸作品や、展示場所の周りにある素材を使ったインスタレーションの作品を発表、国内外のレジデンスでの作品制作、小学校や美術専門学校でのワークショップも行なっている。
Ceramic artist, Sculptor
Born in Hokkaido,Japan in 1970, after graduating from the Department of Mechanical Engineering at Tomakomai National College of Technology, he got a design job at a company that produces metal monuments and objects.
In 2003, in the woods of Kitahiroshima City self-made studio and wood firing kiln
(Anagama), hand-digging the clay in Hokkaido, and firing it for 6 days in a firewood ceramics called "Nanban"  And presented works on a solo exhibition.
In addition to ceramics, in 2007 he started making works using natural materials such as wood and bamboo, and in recent years he has also made works that will be made on the spot according to the exhibition space using a bamboo.
At the open-air sculpture exhibition, large clay works made by forming clay directly in the exhibition place and making a kiln according to it are presented and works of installations using materials around the exhibition place, works at residences in Japan and abroad  He also produces workshops at elementary schools and art college.
近年の主な個展、グループ展



2021

道銀芸術文化奨励賞受賞作家展(北海道立近代美術館 / 札幌)
イコロの森ミーツ・アート2021(イコロの森 / 苫小牧)

2020

「上ノ大作 陶展」(画廊 ぐれごりお / 京都)(2016,2018)
「Self-portrait」(グランビスタギャラリーサッポロ / 札幌)

2019

9 LANDART FESTIWAL(Podlaski Przelom Bugu / ポーランド)
Chicago-Obihiro Extension(The Hairpin Arts Center / シカゴ)
つくば国際アーティストインレジデンス(つくばふれあいの里 / つくば)(2018,2017)

2018

Our Art working(シカゴ、マディソン)(2017,2016,2015)
Chicago-inspired Art from Japan(737 NORTH MICHIGAN / シカゴ)
Obihiro Contemporary Art(帯広、他)(2016,2015,2014 )

2017

「上ノ大作々品展」(らいらっくぎゃらりい / 札幌)
札幌国際芸術祭(UNTAPPED HOSTEL / 札幌)
ハルカヤマ藝術要塞(春香山 / 小樽)(2011,2013,2015)

2016

「CLOUD」(苫小牧市美術博物館 中庭 / 苫小牧)

2015

「上ノ大作 器展」(GALLERY 門馬 ANNEX / 札幌)

2014

「森ノ生活」(ギャラリーマロニエ / 京都)
Sprouting Garden - 萌ゆる森 -(札幌芸術の森 / 札幌)
「、ノ記」(ギャラリー Retara / 札幌)

2013

「ムノウノ人 - 3」(法然院講堂 / 京都)
「森ノ生活」(黒い森美術館 / 北広島)

2012

「ムノウノ人 - 2」(関口雄揮記念美術館 前庭 / 札幌)

2011

「ムノウノ人」(GALLERY 門馬 ANNEX / 札幌)

2010

「上ノ大作 作品展」(北のレンガギャラリー / 帯広)
陶 = 表現(GALLERY 門馬 ANNEX / 札幌)
試みの茶事 EZO 茶会(GALLERY 門馬、ギャラリー創、CAI02 / 札幌)

2009

「上ノ大作 作品展」(GALLERY 門馬 ANNEX / 札幌)

2007

「上ノ大作 作品展」(ギャラリー大通美術館 / 札幌)
受賞
2016

第26回道銀芸術文化奨励賞 受賞